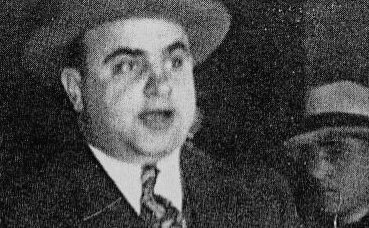 Direct examination by Dwight H. Green:
Green: Do you know Alphonse Capone?
Bragg: Yes.
Green: Point him out, please?
Bragg: That gentleman with the dark blue suit and blue tie [indicating Capone].
Green: Describe your first meeting with Capone.
Bragg: In 1925 I was with a group from the West Suburban Ministers' and Citizens' Association on a raid at 4818 West 22nd Street, Cicero. It was the Saturday of Derby Day, in the month of May.
Green: Did you have any conversation with the defendant?
Bragg: Yes.
Green: Who was present?
Bragg: A number of people of the raiding party and some of the employees of the place, inside the saloon.
Green: Describe the conversation.
Bragg: Well, my job was to watch the front door and keep anybody from going in or out. A big powerful man tried to get in and finally forced the door open. I got sore and asked him, "What the hell do -you think this is, a party?" and he said, "Well, it ought to be a party, I'm the owner of this place." So I said,
"Come on in, Al, we're waiting for you."
Green: What did the defendant do then?
Bragg: He went upstairs with Mr. Morgan, one of the raiding party.
Green: Did you have any later conversation with the defendant?
Bragg: Well, I was present at several conversations. One was upstairs when Capone asked Mr. Morgan and the Reverend Mr. Hoover why they were always picking on him. "Why don't you lay off of me in Cicero?" he said, and Mr. Hoover said they were not picking on him. "This is the last raid you'll ever pull on me," Capone said.
Green: Describe what you saw upstairs?
Bragg: There were roulette wheels, pool, billiard and crap tables, and chuck-a-luck outfits.
Green: Did you see Capone again?
Bragg: Yes, when Judge Hamilton of LaGrange, who was with us, was asked to issue a warrant for him. Shortly after that Capone disappeared.
Michael Ahern cross-examined.
Ahern: What's chuck-a-luck?
Bragg: I don't know.
Ahern: Then you can't say whether there were chuck-a-luck outfits there?
Bragg: I mean I don't know' exactly. It's something like a parrot's cage and dice roll in the center.
Ahern: In how many raids have' you taken part?
Bragg: I was on another one in Stickney.
Ahern: Was there any attempt made to arrest Capone in the raid at 4818 West 22nd Street?
Bragg: I don't know. I didn't see any.
Ahern: Were others arrested?
Bragg: Warrants were drawn for the minor help.
Ahern: You saw no warrant drawn for the man who said he was the owner of the place?
Bragg: There was a demand made for the warrant and I saw a man start to draw it, but before the warrant was ready Capone was gone.
Ahern: Why was the warrant not served?
Bragg: I don't pretend to know the intricacies of the law in such cases.
Ahern: Oh, you suspect that there was skullduggery, do you?
Bragg: I know it was a rotten job not to go through with the arrest.
Ahern: How do you have such a distinct recollection of this raid?
Bragg: Well, if you had your face busted like I did you wouldn't forget it for a while.
Ahern: Oh, you were beaten up? Where was that?
Bragg: Outside, as I was leaving. My nose was broken by a blackjack or brass knuckle....