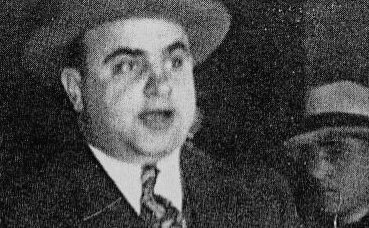 Are they really prosecuting this defendant because of an attempt to defraud the United States on income, or is it just to use that as a means to stow Al Capone away? If the latter, don't you [the jury] be a party to it. You are the only bulwark that can resist oppression in a time of public excitement. Judges cannot do it. The fathers of this country put this power in the hands of the people....
Unless you are certain that Al Capone has been proved guilty exactly as charged in each indictment, you cannot find him guilty at all. The evidence-if it is to be considered as making the defendant guilty-must be clear and convincing and unambiguous and must establish guilt beyond peradventure. or a doubt.
The government lawyers have no confidence in the chaff they have presented here. They know that this evidence of spent money does not prove gross income....
If the figures show Capone made a profit, which they don't, it does not necessarily prove that he had an income, for he may have been losing money at the same time...
The questions involved, gentlemen of the jury, are, first, whether or not there is any evidence-whether, in fact, there is any evidence at all that even rises to the dignity of hearsay evidence. The second question is the big question, which you are interested in and I am interested in and other generations are interested in, namely: If there be no evidence of guilt, can a jury be persuaded, or conned, into returning a verdict of guilty so that public clamor can be appeased?....
Don't let yourselves be drawn away from the truth by the claim that Al Capone is a bad man. He may be the worst man who ever lived, but there is not a scintilla of evidence that he willfully attempted to defraud the government out of income tax....
It is in evidence, gentlemen, that Capone was released from the Philadelphia prison on March 17th, 1930; two years after his income tax return for the year 1929 was due. Six days later, on March 23rd, he had retained a lawyer' and that lawyer said Capone wanted to pay his taxes. How in the world can you find him guilty of willful intent to defraud the Government for 1929?....
The 1924 indictment alleges income of $123,000. Where is the proof? There is not a scintilla of evidence that he made a dollar in 1924. There is not any evidence that he spent any money in that year, with the exception of a $5500 automobile....
The records show that the profits of a Cicero gambling house from May to December, 1924, were $300,350. I suppose the theory of the Government is that because in May of the next year Capone told certain people he owned the place he owned it in 1924....
There was a very interesting sheet in that book, Exhibit 3, about this gambling house. Assuming that the initial "A" referred to Al Capone, then what does it mean? That Frank paid to Al $17,500. In other words, that Al was in debt to the house for $17,500.
Let's assume that "A" meant Al, that "J" meant Jack Guzik, that "Frank" meant Frankie Pope, that "Ralph" meant Ralph Capone and "Pete" meant Peter Penovich and that the amounts opposite their names represented that percentages.
Let us assume this, although it has not been proved, and what have you? The only percentage Al had was one-half of 17 ½ per cent, or 8 ¾ % per cent, for he shared an entry with Jack Guzik.
Now, as for 1925. He is supposed to have told Bragg and Morgan and the Reverend Mr. Hoover that he owned the place. Let's assume that was true. It proves only that he said that on that day he was the owner of a gambling house. There is no proof that he owned it the next day.
Now as for 1926. What evidence is there that he was in the gambling business this year? Are they asking you to convict him for that year just because he had a gambling business in 1925?
And in 1927 Jimmy Mondi, the manager of the gambling house, went to California about the middle of January. Ralph Capone came in and said Penovich would take charge. Reis, the cashier, saw Al Capone in the telegraph room talking to Jack Guzik. Imagine such evidence! Because Al was talking to Jack Guzik he had an interest in the place!
In 1928. Well, in that year, he cashed some Guzik checks, in payment of furniture and other purchases....Wouldn't that argue to you that Al borrowed the money from Guzik instead of getting dividends?
Now 1929, the last year. What evidence have they? Absolutely nothing except that he lost $110,000 betting on the races, and we introduced that.
All it shows is that he had money. That is the most remarkable proposition I ever heard of: Because I spent hundred dollars or ten thousand dollars this year is that was my net income....
Capone is the kind of man who never fails a friend. He was loved by his followers. Open-handed, generous, a man a bookmaker would trust with a ten-thousand-dollar bet. This does not fit in with the government's picture of a miserly effort to evade income tax. A tinhorn or a piker might try to defraud the government, but not Alphonse Capone....