History of the Church, Volume VI (pp.432-434)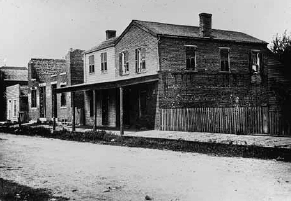 The Nauvoo Expositor building, where the press was destroyed on the order of Joseph Smith
Monday, June 10, 1844.-
I was in the City Council from­ 10 a. m., to 1:20 p. m., and from 2:20 p. m. to 6:30 p. m. investigating the merits of the Nauvoo Expositor, and also the conduct of the Laws, Higbees, Fosters, and others, who have formed a conspiracy for the purpose of destroying my life, and scattering the
Saints or driving them from the state.
An ordinance was passed concerning libels. The Coun­cil passed an ordinance declaring the Nauvoo Expositor a nuisance, and also issued an order to me to abate­ the said nuisance. I immediately ordered the­ Marshal to destroy it without delay, and at the same time issued an order to Jonathan Dunham, acting Major-General of the Nauvoo Legion, to assist the Mar­shal with the Legion, if called upon so to do.
About 8 p. m., the Marshal returned and reported that he had removed the press, type, printed paper, and fix­tures into the street, and destroyed them. This was done because of the libelous and slanderous character of the­ paper, its avowed intention being to destroy the munici­pality and drive the Saints from the city. The posse accompanied by some hundreds of the citizens, returned with the Marshal to the front of the Mansion, when I gave ­them a short address, and told them they had done right and that not a hair of their heads should be hurt for it; that they had executed the orders which were given me by the City Council; that I would never submit to have another libelous publication established in the city; that I did not care how many papers were printed in the city, if they would print the truth: but would submit to no libels or slanders from them. I then blessed them in the name of the Lord. This speech was loudly greeted by the assembly with three-times-three cheers. The posse and assembly then dispersed all in good order. Francis M. Higbee and others made some threats.
East wind. Very cold and cloudy.
---
The June 8-10 Meeting of the Nauvoo City Council
Ordinance Concerning Libels and Other Purposes
Hearing on the Expositor Affair in the Municipal Court of Nauvoo (June 12-13, 1844)