History of the Church, Volume VI (pp. 547-573)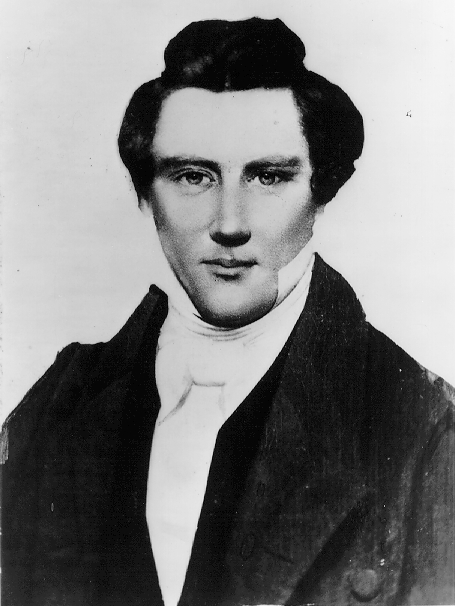 An account of the arrest, imprisonment and martyrdom of President Joseph Smith and Patriarch Hyrum Smith in Carthage jail, Hancock county, Illinois, as collected from the journal kept at the time by Willard Richards, and the statements published by John Taylor, Messrs. Reid and Woods and John S. Fullner, and the writings and statements of Dan Jones, Cyrus H. Wheelock, Stephen Markham and many other persons, who were personally acquainted with the transactions.* - By the Historian. **
* This is the title of the first Compilation of Data as it appears in the Millennial Star, Vol. XXIV, P. 332. A Second Compilation was made by the Church Historian, extending from the 22nd of June to the 8th of August, 1844, at which time the Twelve were accepted for the time as the Presiding Council of the Church; and the claims of Sidney Rigdon rejected.
** George A. Smith was the Historian from 1854 to 1875. Consequently this compilation was made under his supervision.
Saturday, June 22, 1844. - About 9 p. m. Hyrum came out of the Mansion and gave his hand to Reynolds Cahoon, at the same time saying, "A company of men are seeking to kill my brother Joseph, and the Lord has warned him to flee to the Rocky Mountains to save his life. Good-by, Brother Cahoon, we shall see you again." In a few minutes afterwards Joseph came from his family. His tears were flowing fast. He held a handkerchief to his face, and followed after Brother Hyrum without uttering a word.
Between 9 and 10 p. m. Joseph, Hyrum and Willard, while waiting on the banks of the river for the skiff, sent for William W. Phepls, and instructed him to take their families to Cincinnati by the second steamboat, arriving at Nauvoo; and when he arrived there to commence peti­tioning the President of the United States and Congress for redress of grievances, and see if they would grant the Church liberty and equal rights. Joseph then said: "Go to our wives, and tell them what we have concluded to do, and learn their feelings on the subject; and tell Emma you will be ready to start by the second steamboat, and she has sufficient money wherewith to pay the expenses.
If you ascertain by tomorrow morning that there is any­thing wrong, come over the river to Montrose, to the house of Captain John Killien, and there you will learn where we are."
About midnight, Joseph, Hyrum and Dr. Richards called for Orrin P. Rockwell at his lodgings, and all went up the river bank until they found Aaron Johnson's boat, which they got into, and started about 2 a. m to cross the Mississippi river. Orrin P. Rockwell rowed the skiff, which was very leaky, so that it kept Joseph, Hyrum and the doctor busy baling out the water with their boots and shoes to prevent it from sinking.
Sunday, 23. – At daybreak arrived on the Iowa side of the river. Sent Orrin P. Rockwell back to Nauvoo with instructions to return the next night with horses for Joseph and Hyrum, pass them over the river in the night secretly, and be ready to start for the Great Basin in the Rocky Mountains.
Joseph, Hyrum and Dr. Richards walked up to Captain John Killien's house, where they arrived at sunrise; but he not being at home, they went from thence to Brother William Jordan's. About 9 a.m. Dr. Bernhisel came over the river to visit Joseph; also Reynolds Cahoon, who made some explanations respecting Governor Ford's letter.
Early in the morning a posse arrived in Nauvoo to arrest Joseph, but as they did not find him, they started back to Carthage immediately, leaving one man of the name of Yates behind them, who said to one of the brethren that Governor Ford designed that if Joseph and Hyrum were not given up, he would send his troops and guard the city until they were found, if it took three years to do it.
At 1 p. m. Emma sent over Orrin P. Rockwell, request­ing him to entreat of Joseph to come back. Reynolds Cahoon accompanied him with a letter which Emma had written to the same effect, and she insisted that Cahoon should persuade Joseph to come back and give himself up. When they went over they found Joseph, Hyrum and Willard in a room by themselves, having flour and other provisions on the floor ready for packing.
Reynolds Cahoon informed Joseph what the troops intended to do, and urged upon him to give himself up, inasmuch as the Governor had pledged his faith and the faith of the state to protect him while he underwent a legal and fair trial. Reynolds Cahoon, Lorenzo D. Wasson and Hiram Kimball accused Joseph of cowardice for wishing to leave the people, adding that their prop­erty would be destroyed, and they left without house or home. Like the fable, when the wolves came the shep­herd ran from the flock, and left the sheep to be devoured. To which Joseph replied, "If my life is of no value to my friends it is of none to myself."
Joseph said to Rockwell, "What shall I do!" Rock­well replied, "You are the oldest and ought to know best; and as you make your bed, I will lie with you." Joseph then turned to Hyrum, who was talking with Cahoon, and said, "Brother Hyrum, you are the oldest, what shall we do!" Hyrum said, "Let us go back and give ourselves up, and see the thing out." After studying a few moments, Joseph said, "If you go back I will go with you, but we shall be butch­ered." Hyrum said, "No, no; let us go back and put our trust in God, and we shall not be harmed. The Lord is in it. If we live or have to die, we will be reconciled to our fate."
After a short pause, Joseph told Cahoon to request Cap­tain Daniel C. Davis to have his boat ready at half-past five to cross them over the river.
Joseph and Hyrum then wrote the following letter [to Governor Ford]:...
About 4 p. m. Joseph, Hyrum, the Doctor and others started back. While walking towards the river, Joseph fell behind with Orrin P. Rock­well. The others shouted to come on. Joseph replied, "It is of no use to hurry, for we are going back to be slaughtered, " and continually expressed himself that he would like to get the people once more together, and talk to them tonight. Rockwell said if that was his wish he would get the people together, and he could talk to them by starlight.
It was the strong persuasions of Reynolds Cahoon, Lorenzo D. Wasson and Hiram Kimball, who were carry­ing out Emma's instructions, that induced Joseph and Hyrum to start back to Nauvoo. They re-crossed the river at half-past five. When they arrived at the Man­sion in Nauvoo, Joseph's family surrounded him, and he tarried there all night, giving up the idea of preaching to the Saints by starlight.
He sent the letter of this date to Governor Ford by Col. Theodore Turley and Elder Jedediah M. Grant, who car­ried it to Carthage, where they arrived about 9 p.m. They gave the letter to Governor Ford, who first agreed to send a posse to escort General Smith in safety to Carthage. Immediately afterwards Mr. Skin­ner came in and made a very bitter speech to the Governor, in which Wilson Law and Joseph H. Jack­son joined, telling him naught but lies, which caused Elder Grant to ask if messengers to him were to be insulted in that manner. The Governor treated them coldly, and rescinded his previous promise, and refused to send or allow an escort to go with Joseph, as he said it was an honor not given to any other citizen. He would not allow the messengers to stay in Carthage through the night, but ordered them to start at 10 o'clock, and return to Nauvoo with orders for General Smith to be in Carthage at 10 o'clock tomorrow morning without an escort; and he threatened that if General Smith did not give himself up at that time, that Nauvoo would be destroyed and all the men, women and children that were in it. Messrs. Grant and Turley immediately started; but on account of their horses being wearied, they did not arrive in Nauvoo until about four a. m. of the 24th, when they went to General Smith to report to him the state of excitement in Carthage. He would not hear one word of the warning, as he was determined to go to Carthage and give himself up to the Governor.
At night Joseph conversed with Captain Anderson, who reported that the mob at Warsaw had stopped his boat, and threatened to fire into her with his cannon.... H
PORT MADISON, IOWA
Preparations are making for an early start tomorrow morning for Carthage. Joseph gave directions to gather some horses for the purpose of carrying him and his friends to Carthage to­morrow. Although the Governor has threatened to send his troops into the city, none have appeared as yet.
Monday, 24.-Francis M. Higbee having sworn out a writ before Thomas Morrison, a justice of the peace at Carthage on the 11th instant, against Joseph Smith, Hy­rum Smith, Samuel Bennet, John Taylor, William W. Phelps, John P. Greene, Stephen C. Perry, Dimick B. Huntington, JonathanDunham, Stephen Markham, William W. Edwards, Jona­than Holmes, Jesse P. Harmon, John Lytle, Joseph W. Coolidge, David Harvey Redfield, Orrin P. Rockwell and Levi Richards for riot, in destroying the Nauvoo Expositor press, the property of William and Wilson Law and others, on the 10th instant, and Governor Ford having sent word by the posse that those eighteen persons should be protected by the militia of the state, they, upon the assurance of that pledge at half-past six a.m. started for Carthage, Willard Richards, Dan Jones, Henry G. Sher­wood, Alfred Randall, James Davis, Cyrus H. Wheelock, A. C. Hodge and several other brethren, together with James W. Woods as counsel, accompanying them.
When they arrived at the top of the hill, Joseph sent Rockwell with a horse for Dr. Southwick, a Southern gentleman who had been staying some days at the Mansion, and who wished General Joseph Smith to buy considerable property in Texas; but Ed. Bonny took possession of the horse, so that Dr. Southwick could not then go.
Joseph paused when they got to the Temple, and looked with admiration first on that, and then on the city, and remarked, "This is the loveliest place and the best peo­ple under the heavens; little do they know the trials that await them." As he passed out of the city, he called on Daniel H. Wells, Esq., who was unwell, and on parting he said, "Squire Wells, I wish you to cherish my memory, and not think me the worst man in the world either."
At ten minutes to 10 a. m. they arrived at Albert G. Fellows' farm, four miles west of Carthage, where they met Captain Dunn with a company of about sixty mounted militia, on seeing which Joseph said, "Do not be alarmed, brethren, for they cannot do more to you than the enemies of truth did to the ancient Saints-they can only kill the body." The company made a halt, when Joseph, Hyrum and several others went into Fel1ows' house with Captain Dunn, who presented an order from Governor Ford for all the state arms in possession of the Nauvoo Legion, which Joseph immediately countersigned.
Henry G. Sherwood went up to Joseph and said, "Brother Joseph, shall I return to Nauvoo and regulate about getting the arms and get the receipts for them' " Joseph inquired if he was under arrest, or expected to be arrested. Sher­wood answered "No," when Joseph directed him to return ahead of the company, gather the arms and do as well as he could in all things. Joseph then said to the company who were with him, "I am going like a lamb to the slaughter, but I am calm as a summer's morning. I have a conscience void of offense toward God and toward all men. If they take my life I shall die an innocent man, and my blood shall cry from the ground for vengeance, and it shall be said of me 'He was murdered in cold blood!'" He then said to Father Sherwood, "Go, and God bless you. " Sherwood then rode as swiftly as he could to Nauvoo.
Esquire Woods left the company there, and continued his journey to Carthage.
This order for the delivery of the state arms was evi­dently designed to drive the citizens of Nauvoo to desper­ation, so that in the heat of their indignation they might commit some overt act which the Governor could con­strue into treason, and thus have a shadow of excuse for his mob militia to destroy the Mormons.
Captain Dunn requested the company to return to Nauvoo to assist in collecting the arms; and pledged his word as a military man, that Joseph and his friends should be protected even if it were at the expense of his own life, and his men responded to the pledge by three cheers. Captain Dunn, no doubt feared that the order of the Gov­ernor would excite the inhabitants of Nauvoo beyond endurance, and therefore chose to depend on the well known integrity of General Smith than to risk the chances of exciting the feelings of a much-abused people. At the same time Joseph sent a messenger to the Governor with the following letter:...
Letter: Joseph Smith to Governor Ford-Explaining his Return to Nauvoo.
FOUR MILES WEST OF' CARTHAGE MOUND.
HANCOCK COUNTY, ILLINOIS,
Monday, 10 o'clock.
His Excellency Governor Ford:
DEAR SIR.-On my way to Carthage to answer your request this morning, I here met Captain Dunn, who has here made known to me your orders to surrender the state arms in possession of the Nauvoo Legion, which command I shall comply with; and that the same may be done properly and without trouble to the state, I shall return with Cap­tain Dunn to Nauvoo, see that the arms are put into his possession, and shall then return to headquarters in his company, when I shall most cheerfully submit to any requisition of the Governor of our state.
With all due respect to your Excellency, I remain your obedient servant.
JOSEPH SMITH.
He also issued the following order:
Order: Joseph Smith to General Dunham – Complying with Governor Ford's Demand for State Arms.
HEADQUARTERS NAUVOO LEGION,
Prairie Four Miles West of Carthage.
June 24th, 1844, 10 o'clock and 10 minutes.
To Major-General Jonathan Dunham and all commissioned and noncommissioned officers and privates of the Nauvoo Legion:
You are hereby ordered to comply strictly with the within order of the Commander-in-Chief, Governor Ford.
JOSEPH SMITH.
Lieut.-Gen. Nauvoo Legion.
...Hyrum then said to Abram C. Hodge, "You go on into Carthage and see what is going on, and hear what is said on this matter." Joseph and his company then returned with Captain Dunn, and arrived in Nauvoo at half-past two p. m.
When Hodge arrived at Carthage, he met with Rev. Mr. Dodge, who had some time previously been very kindly treated by Hyrum. He warned Hodge that as sure as Joseph and Hyrum came to Carthage, they would be killed. Hodge also saw Hamilton, the innkeeper, who, pointing to the Carthage Greys, said, "Hodge, there are the boys that will settle you Mormons." Hodge replied, "We can take as many men as there are there out of the Nauvoo Legion, and they would not be missed."
When the fact of the order for the state arms was known in Nauvoo, many of the brethren looked upon it as another preparation for a Missouri massacre; nevertheless, as Joseph requested that it should be complied with, they very unwillingly gave up the arms.
About 6 p.m., when all the states' arms were collected, and the company were ready to start, Captain Dunn and Quartermaster-General Buckmaster made a short speech, expressing their gratitude at the peaceable con­duct of the citizens of Nauvoo, and that while they thus conducted themselves they would protect them.
It appears that Governor Ford feared that the Nauvoo Legion, although disbanded, might avenge any outrage that might hereafter be committed on the persons of their leaders, and so thought he had better disarm them as he had previously disbanded them; yet the mob was suffered to retain their portion of the state's arms, even when with­in a half-day's march of Nauvoo, and they in a threaten­ing and hostile attitude, while the Nauvoo Legion had not evinced the least disposition whatever, except to defend their city in case it should be attacked; and they had not set a foot outside the limits of the corporation.
Joseph rode down home twice to bid his family farewell. He appeared solemn and thoughtful, and ex­pressed himself to several individuals that he expected to be murdered. There appeared no alternative but that he must either give himself up, or the inhabitants of the city would be massacred by a lawless mob under sanction of the Governor.
The company (about fifteen) then started again for Carthage, and when opposite to the Masonic Hall, Joseph said, "Boys, if I don't come back, take care of yourselves; I am going like a lamb to the slaughter. " When they passed his farm he took a good look at it, and after they had passed it, he turned round several times to look again, at which some of the company made remarks, when Joseph said: "If some of you had got such a farm and knew you would not see it any more, you would want to take a good look at it for the last time." When they got to the edge of the woods near Nauvoo, they met A. C. Hodge return­ing from Carthage. He reported to Hyrum what he had heard in Carthage, told him what his feelings were and said, "Brother Hyrum, you are now clear, and if it was my duty to counsel you, I would say, do not go another foot, for they say they will kill you, if you go to Carthage," but as other persons gathered around, nothing further was said. About this time Joseph received the following letter:
Letter: Messrs. Reid and Woods to Joseph Smith - -Documents for Defense.
CARTHAGE, 5 o'clock p. m.
General Joseph Smith:
DEAR SIR.-In accordance with previous arrangements with Elder Adams, I am here at your service; and it will be necessary for us to have, on the examination here before the justice, a certified copy of the city ordinance for the destruction of the Expositor press, or a copy which has been published by authority: We also wish the original order issued by you to the marshal for the destruction of said press, and such witnesses as may be necessary to show by whom the press was destroyed, and that the act was not done in a riotous or tumultuous manner.
Yours respectfully,
H. T. REID.
DEAR SIR.-I concur fully as to the above, and will add, from an interview with Governor Ford, you can, with the utmost safety, rely on his protection, and that you will have as impartial an investigation as could be expected from those opposed to you. The excitement is much allayed, and your opponents (those who wish to make capital out of you) do not want you to come to Carthage. Mr. Johnson has gone east, and that will account for Mr. Reed being here.
Respectfully, your obedient servant,
JAMES W. WOOD.
CARTHAGB, 24th June, 1844.
The company arrived at Fellows' house, four miles west of Carthage, about 9 p. m., where they stopped about half an hour, and partook of such refreshments as they had brought with them. Captain Dunn and his company of mounted militia, returning with the state arms from Nauvoo, joined them here, and escorted them into Carthage, where they arrived at five minutes before 12 at night, and went to Hamilton's tavern. While passing the public square many of the troops, especially the Carthage Greys, made use of the following expressions, which were re-echoed in the ears of the Governor and hundreds of others, "Where is the damned prophet?" "Stand away, you McDonough boys, and let us shoot the damned Mormons." "G-d­ you, old Joe, we've got you now." "Clear the way and let us have a view of Joe Smith, the prophet of God. He has seen the last of Nauvoo. We'll use him up now, and kill all the damned Mormons." The rear platoon of the Carthage Greys repeatedly threw their guns over their heads in a curve, so that the bayonets struck the ground with the breech of their guns upward, when they would run back and pick them up, at the same time whooping, yelling, hooting and cursing like a pack of savages.
On hearing the above expressions, the Governor put his head out of the window and very fawningly said, "I know your great anxiety to see Mr. Smith, which is natural enough, but it is quite too late tonight for you to have the opportunity; but I assure you, gentlemen, you shall have that priv­ilege tomorrow morning, as I will cause him to pass before the troops upon the square, and I now wish you, with this assurance, quietly and peaceably to return to your quarters." When this declaration was made, there was a faint "Hurrah for Tom Ford," and they instantly obeyed his wish.
There was a company of apostates also quartered at Ham­ilton's hotel-namely William and Wilson Law, the Hig­bees and Fosters, Augustine Spencer, Henry O. Norton, John A. Hicks, (formerly presi­dent of the Elder's quorum) and others. Hicks stated to C. H. Wheelock that it was determined to shed the blood of Joseph Smith by not only himself, but by the Laws, Higbees, Fosters, Joseph H. Jackson, and many others, whether he was cleared by the law or not. Jackson talked freely and unreservedly on that sub­ject, as though he were discoursing upon the most common occurrence of his life. Said he, you will find me a true prophet in this respect. Wheelock told Ford what Hicks had said, but he treated it with perfect indifference, and suffered Hicks and his associates to run at liberty and mature their murderous plans.
A writ was also issued by Robert F. Smith against Joseph W. Coolidge on complaint of Chauncey L. Hig­bee, charging him with the illegal detention of Charles A. Foster.
Tuesday, June 25, 1814.-This morning the prisoners vol­untarily surrendered themselves to the constable, Mr. Bet­tisworth, who held the writ against them. The Governor was at headquarters in person, and had pledged his own faith and the faith of the state of Illinois, that the Smiths and other persons should be protected from personal violence, and should have a fair and impartial trial, if they would surrender them­selves to be dealt with according to law. During the Gov­ernor's stay in Carthage, he repeatedly expressed to the legal counselors of the Smiths his determination to pro­tect the prisoners, and to see that they should have a fair and impartial examination.
At 8 a. m. President Smith had an interview with Wil­liam G. Flood of Quincy, U. S. Receiver of Public Moneys. While in conversation with him, Constable David Bettisworth arrested Joseph for treason against the state of Illinois, with the following writ, which had been granted on the oath of Augustine Spencer:
Writ of Arrest on the Charge of Treason – Joseph Smith.
STATE OF ILLINOIS
CITY OF NAUVOO
The people of the State of Illinois, to all sheriffs, coroners and constables of said state greeting:
Whereas complaint has been made before me, one of the justices ofthe peace in and for said county aforesaid, upon the oath of Augustine Spencer, that Joseph Smith, late of the county aforesaid, did, on or about the nineteenth day of June. A. D. 1844, at the county and state aforesaid, commit the crime of treason against the government and people of the State of Illinois aforesaid.
These are therefore to command you to take the said Joseph Smith if he be found in your county, or if he shall have fled, that you pursue after the said Smith into another county within this state, and take and safely keep the said Joseph Smith, so that you have his body forthwith before me to answer the said complaint and be further dealt with accord­ing to law.
[Seal]
Given under my hand and sea1 this 24th day of June, A,D. 1844.
R. F. SMITH, J. P.
Hyrum Smith was also arrested at the same time for treason on the same writ, granted in the affidavit of Henry O. Norton...
8:30 a. m.-Governor Ford called all the troops and ordered them to form a hollow square on the public ground near the Court House; and when formed, he mounted an old table, and addressed them in a most inflammatory manner, exciting the feelings of indignation against Generals Joseph and Hyrum Smith which were already burning in their breasts, occasioned by the falsehoods and misrepre­sentations that were in circulation, giving his assent and sanction to the rumors that had gathered them together, and stating that although they were dangerous men in the community, and guilty of all that they might have alleged against them, still they were in the hands of the law, which must have its course. He continued speaking twenty or thirty minutes.
9: 15 a. m.- The Governor came in and invited Joseph to walk with him through the troops. Joseph solicited a few moments' private conversation with him, which the Governor refused. While refusing, the Governor looked down at his shoes, as though he was ashamed. They then walked through the crowd with Brigadier-General Miner R. Dem­ing and Dr. Richards, to General Deming's quarters. The people appeared quiet until a company of Carthage Greys flocked around the doors of General Deming in an uproar­ious manner, of which notice was sent to the Governor. In the meantime the Governor had ordered the McDonough troops to be drawn up in line for Joseph and Hyrum to pass in front of them, they having requested that they might have a clear view of the Generals Smith. Joseph had a conversation with the Governor for about ten minutes, when he again pledged the faith of the state that he and his friends should be protected from violence.
Robinson, the postmaster, said, on report of martial law being proclaimed in Nauvoo, he had stopped the mail and notified the Postmaster-General of the state of things in Hancock county.
From the General's quarters Joseph and Hyrum went in front of the lines, in a hollow square of a company of Carthage Greys. At seven minutes before ten they arrived in front of the lines, and passed before the whole, Joseph being on the right of General Deming, and Hyrum on his left, Elders Rich­ards, Taylor and Phelps following. Joseph and Hyrum were introduced by the Governor about twenty times along the line, as General Joseph Smith and General Hyrum Smith, the Governor walking in front on the left. The Carthage Greys refused to receive them by that introduction, and some of the officers threw up their hats drew their swords and said they would introduce themselves to the damned Mormons in a different style. The Governor mildly entreated them not to act so rudely, but their excitement increased. The Governor, however, succeeded in paci­fying them by making a speech, and promising them that they should have "full satisfaction." General Smith and party returned to their lodgings at five minutes past ten.
10:30.-News reached Joseph at the hotel that the Car­thage Greys had revolted, and were put under guard by General Deming. Joseph told all his friends to stay in the two rooms occupied by them in the hotel.
10:50.-Quietness was apparently restored among the Carthage Greys.
11 :15.-News arrived that the Warsaw troops were near Carthage, and had come of their own accord. Mr. Prentice, U. S. Marshal for Illinois, called to see Joseph.
12 minutes before 1.-Inte1ligence was given to Joseph that the Laws, Higbees, Fosters and others, were going to Nauvoo to plunder. The Gov­ernor called at the door with some gentlemen when Joseph informed him of what he had heard, and requested him to send a guard to protect the city of Nauvoo.
Willard Richards wrote a letter to his wife.
1 :30 p.m.- After dinner, Mark Aldrich of Warsaw called to see Joseph.
2 :30.-The Governor communicated that he had ordered Captain Singleton with a company of men from McDonough county, to march to Nauvoo to co-oper­ate with the police in keeping the peace; and he would call out the Legion, if necessary.
Joseph wrote to Emma as follows:
Letter: The Prophet to Emma Smith-Governor Ford Going to Nauvoo.
CARTHAGE, June 25th, 1844.
2:30 o'clock p. m.
DEAR EMMA.-I have had an interview with Governor Ford, and he treats us honorably. Myself and Hyrum have been again arrested for treason because we called out the Nauvoo Legion; but when the truth comes out we have nothing to fear. We all feel calm and composed.
This morning Governor Ford introduced myself and Hyrum to the militia in a very appropriate manner, as General Joseph Smith and General Hyrum Smith. There was a little mutiny among the Carthage Greys, but I think the Governor has and will succeed in enforcing the laws. I do hope the people of Nauvoo will continue pacific and prayer­ful.
Governor Ford has just concluded to send some of his militia to Nauvoo to protect the citizens, and I wish that they may be kindly treated. They will co-operate with the police to keep the peace. The Governor's orders will be read in the hearing of the police and officers of the Legion, as I suppose.
3 o'clock.-The Governor has just agreed to march his army to Nauvoo, and I shall come along with him. The prisoners, all that can, will be admitted to bail. I am as ever,
JOSEPH SMITH.
Joseph also sent a message to Orrin P. Rockwell not to come to Carthage, but to stay in Nauvoo, and not to suffer himself to be delivered into the hands of his enemies, or to be taken a prisoner by anyone.
It was reported by Israel Barlow that he had heard resolutions of the Warsaw troops read, to the effect that they would return to Warsaw at 3 p. m., then go to Golden's Point on Thursday, and thence to Nauvoo.
Several of the officers of the troops in Carthage, and other gentlemen, curious to see the Prophet, visited Joseph in his room. General Smith asked them if there was anything in his appearance that indicated he was the desperate character his enemies represented him to be; and he asked them to give him their honest opinion on the subject. The reply was, "No. sir, your appearance would indicate the very contrary, General Smith; but we cannot see what is in your heart, neither can we tell what are your inten­tions." To which Joseph replied, "Very true, gentlemen, you cannot see what is in my heart, and you are therefore unable to judge me or my intentions; but I can see what is in your hearts, and will tell you what I see. I can see that you thirst for blood, and nothing but my blood will satisfy you. It is not for crime of any description that I and my brethren are thus continually persecuted and har­assed by our enemies, but there are other motives, and some of them I have expressed, so far as relates to myself; and inasmuch as you and the people thirst for blood, I prophesy, in the name of the Lord, that you shall witness scenes of blood and sorrow to your entire satisfaction. Your souls shall be perfectly satiated with blood, and many of you who are now present shall have an opportun­ity to face the cannon's mouth from sources you think not of; and those people that desire this great evil upon me and my brethren, shall be filled with regret and sorrow because of the scenes of desolation and distress that await them. They shall seek for peace, and shall not be able to find it. Gentlemen, you will find what I have told you to be true."
12 minutes to 4.-Report came to Joseph that William and Wilson Law, Robert D. Foster, Chauncey L. Higbee and Francis M. Higbee had said that there was nothing against these men; the law could not reach them but powder and ball would, and they should not go out of Carthage alive.
Joseph, Hyrum and thirteen others were taken before Robert F. Smith, a justice of the peace residing in Carthage (he being also captain of the Carthage Greys) on the charge of riot destroying the printing press of the Nauvoo Expositor.
It is worthy of notice here, that when the defendants went before Esquire Wells, the prosecution objected, and insisted that they should be taken before the justice who issued the writ-viz., Thomas Morrison, and that Gov­ernor Ford had also stated in his letter to General Joseph Smith that he must go before the justice in Carthage who issued the writ. But when the prosecution had the defendants in their own power in Carthage, they could then ride over their own objections by taking them before another justice, who was known to be a greater enemy to the defendants than Justice Morrison, and moreover, before one who was not only a justice of the peace, but also the military commander of a company of Carthage Greys, who had already been arrested for mutiny.
Chauncey L. Higbee, one of the prosecutors, moved an adjournment.
H. T. Reid and James W . Woods on behalf of the defendants, objected to an adjournment, and said that the court was not authorized to take recognizance without their acknowledging their guilt, or having witnesses to prove it, and we admit the press was destroyed by order of the Mayor, it having been condemned by the City Council as a nuisance.
They read law to show that justices could not recognize without admission of guilt, and offered to give bail.
Mr. Reid stated that the law quoted by the prosecution belonged to civil, not criminal cases.
The prosecution insisted to have a commission of the crime acknowledged.
After a good deal of resistance on the part of the prose­cution, court asked if the parties admitted that there was sufficient cause to bind over, and the counsel for the defense admitted there was, and offered to enter into cognizance in the common form, in order to prevent, if possible, any increase of excitement.
5 p m.- Court acknowledged the admission and ordered recognizance, whereupon Joseph Smith, Hyrum Smith, John Taylor, William W. Phelps, John P. Greene, Stephen C. Perry, Dimick B. Hunt­ington, Jonathan Dunham, Stephen Markham, Jonathan H. Holmes, Jesse P. Harmon, John Lytle, Joseph W. Coolidge, David Harvey Redfield, and Levi Richards gave bonds, with John S. Fullmer, Edward Hunter, Dan Jones, John Benbow, and other unexcep­tionable sureties, in the sum of $500 for each of the defend­ants, total $7,500, for their appearance at the next term of the Circuit Court for Hancock county.
It was evident that the magistrate intended to overreach the wealth of the defendants and their friends, so as to imprison them for want of ban; but it happened that there was strength to cover the demand, for some of the brethren went security to the full extent of their property; and Justice Smith adjourned his court over, and left the court house without calling on Joseph and Hyrum to answer to the charge of treason, or even intimating to those prisoners, or their counsel that they were expected to enter into an examination that night.
Captain Smith, the only magistrate who could grant subpoenas for witnesses, disappeared until a late hour, as if purposely to prevent the appearing of the defendant's witnesses, and in keeping with the conviction expressed by Joseph's enemies the previous day, that the law can­not touch them, but that powder and ball win.
About 6:30 p. m.-Dan Jones heard Wilson Law, whilst endeavoring to get another warrant against Joseph Smith for treason, declare that while he (Mr. Smith) was once preaching from Daniel 2nd chapter, 44th verse, said that the kingdom referred to was already set up, and that he was the king; over it. He also heard Joseph B. Jackson, and other leaders of the mob, declare that they had eighteen accusations against Joseph, and as one failed, they would try another to detain him there, and that they had had so much trouble and hazard, and worked so hard in getting him to Carthage, that they would not let him get out of it alive. Jackson pointed to his pistols and said, "The balls are in there that will decide his case." Jones immediately went up stairs to Joseph and informed him what he had heard Jackson say.
About 7:30 p. m.-Dr. Levi Richards and most of the brethren, after they had signed the bonds, left for Nauvoo when Joseph and Hyrum went into the Governor's room and spoke with him, as Governor Ford had promised them an interview. After a few moments' conversation, the Governor left them to order the captain of the guard to give the brethren some passes. They then went to supper.
8 p. m.-Constable Bettisworth appeared at the lodgings of Joseph and Hyrum, and insisted that they should go to jail. Joseph demanded a copy of the mittimus, which was refused. Messrs. Woods and Reid, as counsel, insisted that the prisoners were entitled to be brought before a justice of the peace for examination before they could be sent to jail. The constable, to their surprise, then exhib­ited the following mittimus:
The False Mittimus.
STATE of ILLINOIS,
HANCOCK COUNTY
The people of the State of Illinois to the keeper of the jail of said County, Greeting:
Whereas Joseph Smith and Hyrum Smith of the county aforesaid, have been arrested upon oath of Augustine Spencer and Henry O. Norton, for the crime of treason, and have been brought before me as a justice of the peace in and of the said county, for trial at the seat of justice thereof, which trial has been necessarily postponed by reason of the absence of the material witnesses-to wit, Francis M. Higbee and others. Therefore, I command you, in the name of the people, to receive the said Joseph Smith and Hyrum Smith into your custody in the jail of the county aforesaid, there to remain until discharged by due course of law.
[Seal]
Given under my hand and seal this 25th day June, A. D. 1844.
(Signed) R. F. SMITH J. P.
Joseph remonstrated against such bare-faced, illegal, and tyrannical proceedings, but the constable still insisted that they should go to jail. Lawyer Woods requested the officer to wait until he could see Governor Ford, and was told by Bettisworth that he could only wait five minutes.
Joseph and Hyrum again remonstrated, and the constable waited until about nine o'clock, when they heard by Mr. Wood that the Governor did not think it within the sphere of his duty to interfere, as they were in the hands of the civil law, and there­fore he had not the power to stay process, or the due course of law, and that he could not interrupt a civil officer in the discharge of his duty.
Governor Ford knew this [proceeding] was illegal, (for he had formerly been an associate-justice of the Supreme Court of the state) and when he was appealed to by Cap­tain Robert F. Smith to know what he must do, as he had found his mittimus as a magistrate was illegal, and there­fore that it was a false committal, Governor Ford replied, "You have the Carthage Greys at your com­mand." Captain Smith therefore commanded his "Greys" to execute and carry into affect his illegal mitti­mus as a magistrate, thus practically blending the civil and military in the same person at the same time; and the prisoners were violently and illegally dragged to jail with­out any examination whatever, while his Excellency was in the adjoining room from that from which they were thus taken. So much for his professions that the law must be executed.
Thus a justice of the peace acting as a military officer also by virtue of his commission as such, orders his com­mand to appear under arms and to incarcerate the prison­ers whom he had just before ordered to commit to jail by mittimus without having them brought before him for exam­ination; and the Governor, having been himself at one time a judge upon the bench, knew and well understood the illegality of the above proceedings.
He also well knew that military power and [ civil] author­ity had been used by one and the same person, and yet he, acting at that time as Commander-in-Chief, which gave him the supervision over all his officers, and in fact made him responsible for all their acts and movements, refused to interfere when requested by the prisoners to interpose his authority in their behalf against an illegal civil process, and also refused to countermand the illegal, oppressive and unofficer-like order of one of his captains.
Moreover, having taken the oath of office, as Governor of the state of Illinois, he was by virtue of that oath bound to see the laws faithfully executed, and not, as in this instance, see them violated and trodden under foot, and even prompt one of his officers in his lawless course. Thus he violated his solemn pledges and oath of office.
Elder John Taylor says. "As I was informed of this illegal proceeding, I went immediately to the Governor and informed him of it; whether he was apprised of it before or not, I do not know, but my opinion is that he was. I rep­resented to him the character of the parties who had made oath, the outrageous nature of the charge, the in­dignity offered to men in the position which they [the prisoners] occupied, and that he knew very well that it was a vexatious prosecution, and that they were not guilty of any such thing."
The Governor replied that he was very sorry that the thing had occurred; that he did not believe the charges, but that he thought that the best thing to be done in the premises was to let the law take its course.
"I then reminded him that we had come out there at his instance, not to satisfy the law, which we had done before, but the prejudices of the people in relation to the affair of the press; that we had given bonds, which we could not by law be required to do, to satisfy the people at his instance, and that it was asking too much to require gentlemen in their position in life to suffer the degrada­tion of being immured in a jail at the instance of such worthless scoundrels as those who had made this affidavit.
"The Governor replied that it was an unpleasant affair, and looked hard, but that it was a matter over which he had no control, as it belonged to the judiciary; that he, as the executive could not interfere with their proceed­ings, and that he had no doubt but that they would be immediately dismissed.
"I told him that we had looked to him for protection from such insults, and that I thought we had a right to do so from the solemn promises he had made to me and Dr. Bernhisel in relation to our coming without a guard or arms; that we had relied upon his faith and had a right to expect him to fulfill his engagements, after we had placed ourselves implicitly under his care, and complied with all his requests, although extra-judicial.
"He replied that he would detail a guard, if we required it, and see us protected, but that he could not interfere with the judiciary.
"I expressed my dissatisfaction at the course taken, and told him that if we were to be subject to mob rule, and to be dragged contrary to law into prison, at the instance of every infernal scoundrel whose oath could be bought for a dram of whiskey, his protection availed very little, and we had miscalculated his promises.
"Seeing there was no prospect of redress from the Gov­ernor, I returned to the room and found the Constable, Bettisworth, very urgent to hurry Brothers Joseph and Hyrum to prison, whilst the brethren were remonstrating with him.
"At the same time a great rabble was gathered in the streets and around the door, and from the rowdyism man­ifested, I was afraid there was a design to murder the prisoners on the way to the jail.
"Without conferring with any person, my next feeling was to procure a guard, and seeing a man habited as a soldier in the room, I went to him and said, "I am afraid there is a design against the lives of the Messrs. Smith, will you go immediately and bring your captain, and if not convenient, any other captain of a company, and I will pay you well for your trouble."
"He said he would, and departed forthwith, and soon returned with his captain, whose name I have forgotten* and introduced him to me.
"I told him of my fears, and requested him immediately to fetch his company. He departed forthwith, and arrived at the door with them, just as the time that the constable was hurrying the brethren downstairs.
"A number of brethren went along, and one or two strangers, and all of us safely lodged in prison, remained there during the night."
As Esquire Woods went to the door he met Captain Dunn, with some twenty men, they having come to guard the prisoners in jail. Mr. Woods accompanied Governor Ford to (Captain) Justice Robert F. Smith, who gave as a cause for issuing the warrant of committal, that the pris­oners were not personally safe at the hotel. Mr. Woods then requested the Governor to have a company of troops from some other county detailed to guard the jail.
Captain Dunn, with his company, escorted Joseph and Hyrum Smith from their lodgings...to the jail....
---
Letter from Governor Ford to Joseph Smith on the Expositor Affair and Assuring Smith of Protection (June 22, 1944)
Letter of Joseph Smith to Governor Ford in Response to the Governor's June 22 Letter (June 22, 1844)
Personal Narrative of Joseph Smith ("Governor Ford is under the influence of the mob spirit") (June 22, 1844)
Elder John Taylor's Account of Interview with Governornor Ford Concerning His Promise of Safety (June 22, 1844)
Report of Abraham C. Hodge (The Smiths plan to flee to the West)(June 22, 1844)
Account of Arrest and Imprisonment of Joseph and Hyrum Smith, by Willard Richards (June 22-25, 1844)
Letter from Joseph Smith to Governor Ford: Offer to Surrender (June 23, 1844)
Warrant for Arrest of Joseph Smith on the Charge of Treason (June 25, 1844)
Order of Judge R. F. Smith, Sending the Smiths to Jail (June 25, 1844)
Elder John Taylor Confronts Governor Ford About Broken Promises (June 25, 1844)