by Michelle Pratt (3L)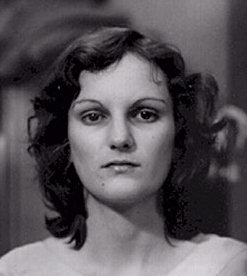 Patty Hearst is an American newspaper heiress grown up into a New York celebrity. She is the granddaughter of William Randolph Hearst, who was one of the country's most famous newspaper moguls and New York politician. The 1941 Orson Welles' film, Citizen Kane was based in part on the life of William Randolph Hearst.
Patricia Campbell Hearst was born February 20, 1954 in San Francisco, California, the third of five daughters of Randolph Hearst and Catherine Campbell. Raised primarily in the affluent San Francisco suburb of Hillsborough, Hearst attended Crystal Springs School for Girls in Hillsborough. Later she attended the Santa Catalina School for Girls in Monterey. Rebellion marked her teens, a period that included fights with nuns (she told one nun at her school to "go to hell"), experience with LSD, and a sexual history that began at age 15.
While attending Crystal Springs School for Girls, Hearst met Steven Weed, a math teacher at the school who eventually became her boyfriend and fiancé. Hearst lived with Weed while attending Menlo College and the two moved to Berkeley when Weed received a teaching fellowship at the University of California. Hearst enrolled at Berkeley for her sophomore year and majored in art history. Weed, in his book My Search for Patty Hearst, described their relationship as, "pleasantly routinized with our studies, movies on weekends, laundromat and grocery runs . . .. We were just two people. We were in love and planning to be married."
Hearst was still a college student when a radical political group called the Symbionese Liberation Army (SLA) kidnapped her in February of 1974. However, instead of a victim, Hearst became a member of the FBI's Ten Most Wanted List after joining the SLA and participating in their criminal activities. Hearst was eventually arrested in 1975 and was convicted of bank robbery. Her defense was centered on brainwashing and fears that she would be killed if she did not participate, but a jury found her guilty on both counts.
Since her release from prison, Patty Hearst has led a somewhat normal life. In David Patrick Columbia's New York Social Diary she is described as a lovely, sweet soft-spoken personality, devoted mother (two daughters Lydia and Gillian), sister, daughter and wife. Now, Mrs. Hearst-Shaw lives in New York and Connecticut with her former bodyguard husband, Bernard Shaw and their two daughters. Bernard Shaw is now the head of security for the Hearst Corporation. Patty Hearst-Shaw has developed into somewhat of a celebrity, appearing in movies, television sitcoms, and writing books, including Patty Hearst: Her Own Story. Hearst has appeared in four John Waters movies, "Cry-Baby" (1990), "Serial Mom" (1994), "Pecker" (1998) and "Cecil B. Demented" (2000). She also does charitable work for Alzheimer's and AIDS groups and for Meals on Wheels. Her own account of her experiences was made into a 1988 film, Patty Hearst.
Despite Hearst's attempts to forget her experience with the SLA, in 1999 Hearst was ordered to testify against former SLA fugitive Sara Jane Olson. The prosecution planned to base much of their case on testimony from Hearst. Interviewed by CNN's Larry King, Hearst said that she believed Olson, along with other SLA leaders, "wanted to bring down the country." She also compared the SLA to the bombers of the Oklahoma City Federal Building and the violent 1960s Charles Manson cult.