Charles Weems
Clarence Norris
Andy Wright
Ozie Powell
Olen Montgomery
Eugene Williams
Willie Roberson
Roy Wright
Haywood Patterson
---
Charles Weems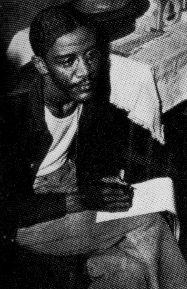 Charles Weems, at age nineteen was the oldest of the Scottsboro Boys when he was arrested in March, 1931. Weems, of Atlanta, was involved in the fight aboard the Southern Railroad freight. He was convicted of rape first in 1931, then in a second trial in 1937. He kept a clean prison record and was paroled in 1943.
Weems had a hard childhood. His mother died when he was four, and only one other of his seven siblings survived childhood. Weems finished the fifth grade, then took a jobs in a pharmacy.
Prison life was also difficult for Weems. He complained about being "half fed" and said he spent a lot of time thinking about "the ladies out in the world and I'm shut in here." In 1934, he was beaten and tear-gassed for reading Communist literature that had been sent to him. The gassing caused permanent eye injuries. In 1937, he contracted tuberculosis. In 1938, he was stabbed by a prison guard who had mistaken him for his intended target, Andy Wright.
After his release in 1943, Weems moved back to Atlanta where he married and took a job in a laundry. (BACK)
Clarence Norris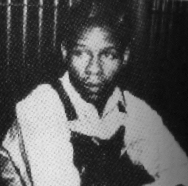 Clarence Norris died in Bronx Community Hospital on Janurary 23, 1989 at the age of seventy-six. He was, as the title of a book he helped write suggested, the last of the Scottsboro Boys.
Norris was the second of eleven children born to Georgia sharecroppers. He attended school only to second grade, then at age seven began working in the cotton fields. Norris had a job in a Goodyear plant, working up to sixteen hours a day, when his girlfriend left and he decided to hit the railroad tracks.
When Norris, who had been one of those involved in the train fight with white boys, was accused of rape he thought he "was as good as dead." According to Norris, on the night before the first trial, he was removed from his cell, beaten and told to turn state's evidence if he wanted to save his life. At the first trial in Scottsboro, Norris testified that theother blacks raped Price and Bates and that he alone was innocent: "They all raped her, everyone of them."
Norris's second conviction was overturned by the U. S. Supreme Court in the landmark case of Norris vs Alabama, which found Alabama's system of excluding blacks from jury rolls to violate the Fourteenth Amendment. Norris was convicted a third time in 1937 (in what Norris termed "a Kangaroo Court"), and again sentenced to death, but his sentence was commuted to life in prison by Governor Graves. Norris was bitter over developments which left him and four others in prison, while four boys were released. He believed that he was paying the price for their freedom.
Norris fought often in prison. One incident in 1943 landed him ten days in the hole with only a blanket, bread, and water. Another incident brought on a beating with a leather strap.
Norris was first paroled in 1944. He moved to New York in violation of his parole, and was returned to prison. In 1946, he was a paroled a second time. He got a job shoveling coal in Cleveland for three years, then moved to New York City. Unemployed in 1956, Norris visited Samuel Liebowitz who arranged a job for him as a dishwasher.
In the 1960's, Norris asked the help of the NAACP in obtaining a pardon from the State of Alabama. Norris had violated parole when he left Alabama and was a fugitive subject to parole revocation and a return to prison. A successful full-scale campaign was mounted, and in 1976 Norris received his pardon from Governor George Wallace. (BACK)
Andy Wright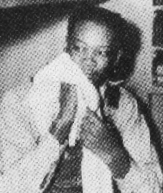 Andy Wright, nineteen at the time of his arrest, was the older brother of Scottsboro Boy Roy Wright. Wright attended school, doing well, in Chattanooga until the sixth grade, when his father died and he quit to help his mother support the family. He started driving a truck for a produce distributor at age twelve, a job he kept up for seven years until the distributor's insurance company learned of his young age and raised rates. In March of 1931, the two Wrights, Patterson, and Williams all boarded the Southern Railroad freight, planning to ride it to Memphis where they heard government jobs hauling logs on the Mississippi might be available. Wright admitted to having fought with white boys on the train, but denied ever having seen Price or Bates until he got off the train.
In prison, despite a 1937 Life Magazine piece which described him as "the best natured" of the Scottsboro Boys, Wright was frequently ill and depressed. He was also said to be mistrustful, something of a loner, and to have a mean streak. Wright was beaten by both prison guards and other inmates, on more than one occassion severely enough to require hospitalization. He wrote that "It seems as though I've been in here for century an century."
Wright was first paroled in January, 1944. He married a woman from Mobile later that year. He took a job, which he held for two years, driving a grocery delivery truck. Wright left Alabama in violation of his parole in 1946, was arrested, and for the next four years was in and out of the Alabama prison system. He left Kilby prison for good on June 6, 1950, the last Scottsboro Boy to be freed.
Wright moved to New York, living for times in Albany and New York City. In 1951, he was accused of raping a thirteen-year-old girl (NAACP investigators viewed the charges as false; Wright had been dating the girl's mother and his accuser), but acquitted by an all-white jury. (BACK)
Ozie Powell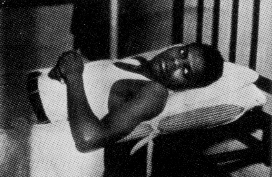 Ozie Powell, sixteen when arrested, was from Atlanta. Powell was not involved in the train fight, but said that he witnessed it. He did not know any of the other Scottsboro Boys prior to his arrest.
Powell, whose IQ was measured at "64-plus," could write only his name. Powell who was born in rural Georgia, had only one year of schooling. He had spent most of the three years prior to his arrest working in lumber camps. He described himself as quiet, shy, and bashful.
In February of 1936, after testifying at Haywood Patterson's fourth trial, Powell was loaded into a car with Clarence Norris and Roy Wright. The three were handcuffed together in the backseat, while a sherrif and his deputy rode in front. Powell and the deputy got into an argument. The deputy hit Powell on his head. With his one free hand, Powell took a pen knife that had escaped detection during a search out of his pants and slashed the deputy's throat, wounding him. The sheriff stopped the car, got out, and fired a bullet at Powell (who, along with the others, had his hands in the air) which lodged in his brain. (The sheriff and deputy described the incident as an escape attempt). Powell survived, but suffered permanent brain damage. He had trouble speaking and hearing, memory loss, and weakness in his right leg and arm. On the operating table Powell told his mother, "I done give up...cause everybody in Alabama is down on me and is mad at me."
According to those who knew him, like Clarence Norris, Powell was never the same again. In what was to be his pre-parole interview with Governor Graves in 1938, Powell refused to answer the Governor's questions saying, "I don't want to say nothing to you." Graves decided not to parole Powell. He was finally released from prison in June, 1946. He moved to back to Georgia. (BACK)
Olen Montgomery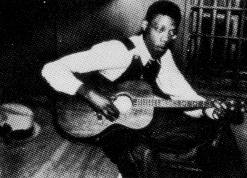 Olen Montgomery, seventeen at the time of his arrest, was born in Monroe, Georgia, where he attended school through the fifth grade. Montgomery was riding alone in a tank car near the rear of the train when the fight and alleged rape took place on the Chattanooga to Memphis freight. Montgomery stuck consistently to his story, and by 1937 every prosecutor connected with the Scottsboro cases agreed Montgomery was innocent. Montgomery was one of four Scottsboro Boys released in July, 1937.
During his six years in jail, Montgomery, who was severely nearsighted in both eyes and nearly blind in one, wrote frequent letters to his supporters asking for such things as six-string guitars (Montgomery hoped to be "the Blues King" after his release) and money to buy a night with a woman.
After his release in 1937, Montgomery said that he wanted to be a lawyer or musician. Despite the assistance of the Scottsboro Defense Committee, however, none of his career dreams were realized. Montgomery bought a saxophone, then a guitar, and practiced as much as possible. Most of the job opportunities that came his way-- dishwasher, porter, laborer-- Montgomery despised, believing they just were getting in the way of his musical calling. He did agree to tour the country with Roy Wright for the Defense Committee and spoke at a number of SDC-arranged meetings. Montgomery bounced back and forth between New York City and Georgia, drinking heavily, and rarely holding a job for more than a few months. Sometime after 1960, Montgomery settled for good in Georgia. (BACK)
Eugene Williams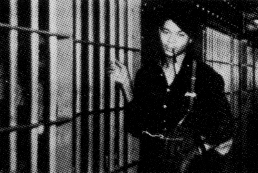 Eugene Williams was thirteen when arrested along with his friends the Wright brothers and Haywood Patterson in March, 1931. Prior to boarding the Southern Railroad freight, Williams had worked as a dishwasher in a Chattanooga cafe. At trial, Williams admitted that he fought with white boys on the train, but denied having seen Price or Bates until after his arrest.
In prison, Williams said that "getting out is the main thing I think about." A 1937 Life Magazine article described Williams as "a sullen, shifty mulatto" who "tries to impress interviewers with his piety."
The state dropped charges against Williams in July, 1937, citing his youth at the time of the alleged incident. After his release he told Samuel Liebowitz that he hoped to land a job someday in a jazz orchestra. He moved to St. Louis where he had relatives, and where his sponsors hoped that he would enroll in a Baptist seminary. (BACK)
Willie Roberson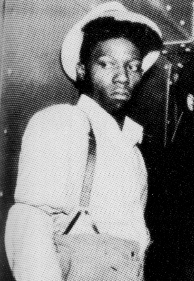 When Willie Roberson, age seventeen, allegedly raped Ruby Bates aboard the Chattanooga to Memphis freight we was suffering from a serious case of syphillis, with sores all over his genitals, that would have made intercourse very painful. Moreover, Roberson was unable to walk without a cane, and clearly was in in no condition to leap from railroad car to railroad car, as his accusers alleged. Nonetheless, on the strength of Price's and Bate's allegations Roberson was prosecuted and convicted. Price testified that Roberson held her legs apart while other boys yelled "pour it to her." The prosecution even managed to use Roberson's syphillitic condition to its advantage, suggesting that the syphillis Ruby Bates contracted in 1931 was caused by his having had sex with her.
In fact, Roberson was no where near the scene of the alleged rape, but alone in a boxcar near the caboose. He had left his job as a hotel busboy in Georgia to go to Chattanooga in search of better work. Finding none available, he boarded the freight for Memphis. Throughout the several trials in which he testified, Roberson stuck to his story. Finally, even prosecutors came to believe him, and Roberson was one of four Scottsboro Boys released in July, 1937. After his release, Roberson lived in New York City where he found steady work.
Roberson's six years in jail were difficult. Roberson suffered from asthma, and the lack of fresh air available aggravated his condition. He was diagnosed (as were four other Scottsboro Boys) with "prison neurosis." He said of his situation, "If I don't get free I just rather they give me the electric chair and be dead out of my misery." (BACK)
Roy Wright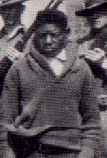 Roy Wright, twelve or thirteen when arrested, was the youngest of the Scottsboro Boys. He was the brother of Andy Wright, who was also arrested upon disembarking the Chattanooga to Memphis freight on March 25, 1931. Wright was on his first trip away from his home in Chattanooga, where he worked in a grocery store. His only trial ended in a mistrial when eleven jurors held out for death, even though, in view of his age, the prosecution had only asked for a life sentence. At the first trials in Scottsboro, Wright testified that he saw other defendants rape the white girls. He later said that he did so after having been threatened and severely beaten by authorities.
Wright kept a Bible with him at all times in jail, where he was held six years without retrial. He needed whatever comfort he could find. In a letter to his mother he wrote, "I am all lonely and thinking of you...I feel like I can eat some of your cooking Mom." Wright went over a year without getting fresh air.
Alabama dropped all charges against Wright in 1937. After his release, he told Samuel Leibowitz that wanted to be a lawyer or a teacher. After going on a national tour for the Scottsboro Defense Committee, Wright served in the army, got married, and took a job with the merchant marine. In 1959, after returning from an extended stay at sea, Wright became convinced that his wife had been unfaithful. Wright shot and killed his wife, then killed himself. (BACK)