History of the Church, Volume VI (pp.449)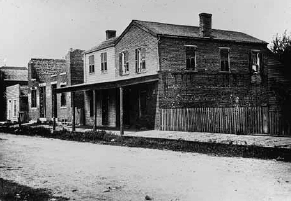 The Nauvoo Expositor building, where the press was destroyed on the order of Joseph Smith
Tuesday 11.-Spent the forenoon in council with the brethren at my house. Went to the office and conversed with my brother Hyrum, Dr. Richards, George G. Adams, and others.
I issued the following:
PROCLAMATION
By virtue of my office as Mayor of the city of Nauvoo, I do hereby strictly enjoin it upon the municipal officers and citizens of said city to use all honorable and lawful means in their power to assist me in main­taining the public peace and common quiet of said city. As attempts have already been made to excite the jealousy and prejudice of the peo­ple of the surrounding country, by libels and slanderous articles upon the citizens and City Council, for the purpose of destroying the charter of said city, and for the purpose of raising suspicion, wrath, and indig­nation among a certain class of the less honorable portion of man­kind, to commit acts of violence upon the innocent and unsus­pecting, in a certain newspaper called the Nauvoo Expositor, recently established for such purposes in said city, and which has been destroyed as a nuisance, according to the provision of the charter. I further call upon every officer, authority, and citizen to be vigilant in preventing, by wisdom the promulgation of false statements, libels, slanders, or any other malicious or evil-designed concern that may be put in operation to excite and ferment the passions of men to rebel against the rights and privileges of the city, citizens, or laws of the land; to be ready to suppress the gathering of mobs; to repel, by gen­tle means and noble exertion, every foul scheme of unprincipled men to disgrace and dishonor the city, or state, or any of their legally-constituted authorities; and, finally to keep the peace by being cool, consid­erate, virtuous, unoffending, manly, and patriotic, as the true sons of liberty ever have been, and honorably maintain the precious boon our illustrious fathers won.
In witness whereof I have hereunto set my hand and affixed the seal of said corporation at the city of Nauvoo, this 11th day of June, 1844.
JOSEPH SMITH,Mayor.
---
The June 8-10 Meeting of the Nauvoo City Council
Ordinance Concerning Libels and Other Purposes
Entry in the Personal Narrative of Joseph Smith (June 10, 1844)
Hearing on the Expositor Affair in the Municipal Court of Nauvoo (June 12-13, 1844)