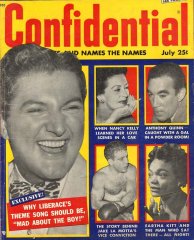 Confidential magazine, July 1957
LINKS
Wikipedia, Confidential (Magazine)
Los Angeles Times, "'Editor Kills Self': Larry Harnisch Reflects on Los Angeles History" (1/4/2008)
Samuel Bernstein, "Mr. Confidential"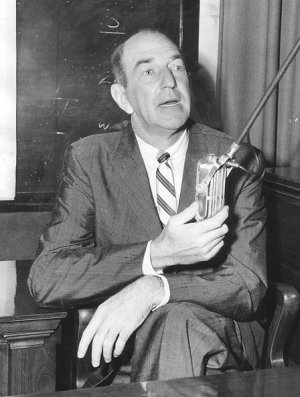 Howard Rushmore, star prosecution witness, testifying at the Confidential trial on August 9, 1957 (LA Times photo)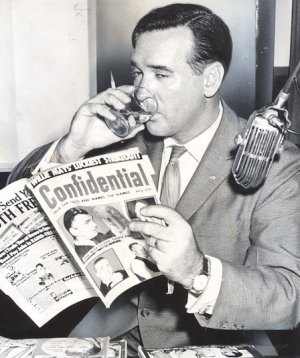 Deputy District Attorney William Ritzi (LA Times photo)
Additional Reading: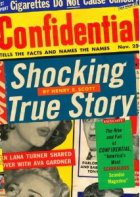 Scott, Henry E. Shocking True Story: The Rise and Fall of Confidential, "America's Most Scandalous Scandal Magazine"
(Pantheon Press, 2010).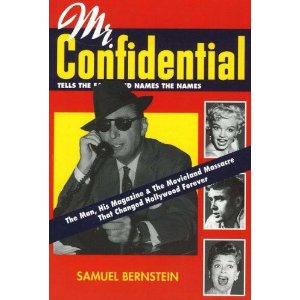 Bernstein, Samuel. Mr. Confidential: The Man, the Magazine, and Movieland Massacre (Walford Press, 2006).
Harrison, Robert. "Hollywood vs. Confidential" (Confidential, September 1957).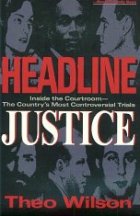 Wilson, Theo. Headline Justice: Inside the Courtroom--The Country's Most Controversial Trials. (Thunder's Mouth Press, 1996)(first-hand account of trial).
Wolfe, Thomas K., "Public Lives: Confidential Magazine: Reflections in Tranquility by the Former Owner, Robert Harrison, Who Managed to Get Away with It" (Esquire, April 1964).