The following information was compiled by law students.
LIZZIE BORDEN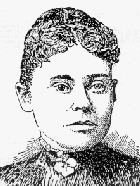 Lizzie was born on July 19, 1860. At the age of two, she suffered the loss of her mother. However, she remained close to her father. Lizzie told many she had no memory of her mother. Her older sister, Emma, appeared to be the only constant in Lizzie's life. Emma was friend and mother to a young Lizzie.
Lizzie knew her position in life and held it well. She was a typical high society young debutante. She belonged to numerous clubs. She was active member in her church. In all the organizations she participated in, Lizzie generally held a leadership role. She was often treasurer (because of her father's wealth) or secretary.
Despite her position, Lizzie remained unmarried. There are many reasons given for this. First, she was not a great beauty--some, unfairly perhaps, called her homely. Second, she resented her father and the fact that she was not allowed the great benefits of being well-to-do. She wanted money and the power, but her father would have none of that. Third, she was in an odd station in life. No suitor was acceptable. For those who would suit her station, she was unacceptable. Those who would have her, her father viewed as inferior and would chase them off as fortune hunters.
Lizzie was thrifty-two when the murders occurred. She inherited a substantial amount of money when she was found not guilty. After her acquittal, she fell into an unlikely circle of friends, primarily the theater and bohemian crowds. She spent many nights out with her friends spending her new found wealth at will.
Lizzie could not escape her famous name. She chose not to leave Fall River even though this might have allowed her some semblance of a normal life. Once in 1926, she entered a hospital and tried to use an alias. Everyone knew who she really was, but kept up the facade for her benefit.
Lizzie died in 1927. She planned her own funeral, having left a list of those to be invited. When the guests arrived, they were told the funeral had taken place the night before. She left her heirs $225,000. She was buried with the rest of the family at Oak Grove Cemetery in Fall River. On her grave is the name "Lisbeth Andrews Borden."
ABBY DURFEE GRAY BORDEN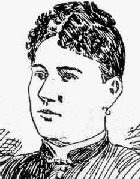 Abby Borden was the second wife to Andrew Borden. She was 37 years old and considered to be an old maid when they married. Abby used the Durfee to link her with one of the first families in the area. She desired respect and social status, but was often regarded as the daughter of a push cart peddler: to marry someone of Andrew's station was unexpected. Many at the time speculated Andrew had proposed because he was looking for a housekeeper and a someone to raise his daughters.
The relationship between Abby and her stepdaughter Lizzie remains something of a mystery. There is no documentary evidence of abuse or neglect. Several persons, however, including prosecution witnesses in the murder trial, reported that the relationship was less than loving. Many believe Lizzie killed Abby because she hated her, then felt that she had no choice but to also kill her father, who would know the truth.
Killed by 18 whacks (not 40 as the children's song goes), Abby's body was found in the second floor guest room, her body in an unusual position. Her skull, cleaned of blood and matter, was used as evidence at the trial. It showed a huge section missing.
ANDREW JACKSON BORDEN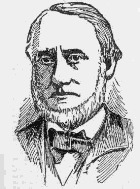 Andrew Borden was an eighth generation high society man. He had been married twice. His first wife was Sarah Morse. Together they had three daughters. The middle child, Alice, died at the age of two. He married Abby Durgee Gray two years after Sarah died. Mr. Borden was the President of a major bank in his hometown of Fall Rivers, owned substantial property, was the director of three major cloth mills, and was very wealthy.
Andrew's father was one of the few Borden men who had not retained the wealth associated with the family. His father was a fish peddler. Andrew, not wanting to follow in his father's footsteps, began as a carpenter's helper. Eventually, he became a partner with Frank Almy in a casket company. They sold Crane's Patented Casket Burial Cases.
Mr. Borden was known for his clothing. Summer or Winter he could be seen in his black, double-breasted Prince Albert and string tie. He was also known for his love of money. He was well on his way to becoming a millionaire. He worked 14-hour days. He was known to be somewhat of a tight-wad. One of his prize properties was nearing completion the day he was brutally murdered. In downtown Fall River, it stands as the A.J. Borden Building.
EMMA LENORE BORDEN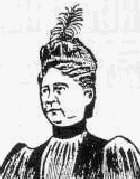 Born on March 1, 1851, Emma was the oldest of three daughters born to Sarah and Andrew Borden. When Sarah died, Emma was 12.
Emma was not home when her father and stepmother were murdered. There are several accounts of where she was. One account has her off with a suitor. The story goes that she was in love with a man beneath her station. They desired to be wed, but her father was opposed. The real story seems to be that she was off visiting some friends. She was notified by telegram by a family friend.
Some accounts have Emma as the real murderess, but there is virtually no evidence to support this theory. Unlike Lizzie, Emma never appeared unhappy about her life. She seemed to take things as they came. There is little knowledge of who Emma Borden really was. There are no records of her education, love life, etc. There are even few pictures of her.
Emma remained a supporter and friend to Lizzie. When Lizzie was charged with the murders, Emma became the sole heir to the Borden fortune. (Despite rumors that Andrew had a will, none was ever found). She used the funds from the fortune to help Lizzie in her quest for innocence. On the day Lizzie died, Emma, living a reclusive life in New Hampshire, fell and broke her hip. She died 12 days later.
When she died, Emma was worth $450,000. She left most of this to charity. She is buried with the rest of the Borden family in Fall River.
BRIDGET SULLIVAN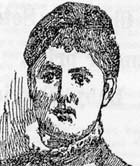 Bridget emigrated from Ireland in 1883. She came to the Borden family six years later as their live-in maid. No one is sure how old she was the day of the Borden murders, but it is estimated that she was in her mid-20's. Bridget was in and around the Borden home on August 4, 1892. She was washing windows (despite experiencing the stomach flu), as Mrs. Borden had ordered her to do that morning.
Some people have speculated that Bridget was Lizzie's accomplice in the murders. How else, proponents of this theory suggest, would Bridget not have heard anything that fateful day? She did hear a noise at one time. She went to the stairs to investigate and assumed it was Lizzie.
Bridget took the stand at every phase of the trial. Her testimony neither helped nor hurt Lizzie. She always seemed, to most observers, to be truthful to the best of her knowledge.
One legend has Bridget being paid off by Lizzie and returning to Ireland. However, she remained in the US and spent her later years leading a modest life in Montana..
JOHN VINNICUM MORSE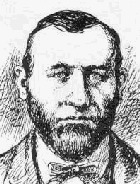 John was the brother of Andrew's first wife (Lizzie and Emma's mother). He appeared to be the only true friend Andrew had in life. The two men were always quite close. They had, at one point, gone into the casket making business together. However, the business relationship ended when John chose to move west on the advise of Horace Greeley. He first settled in Illinois and then moved to Iowa, where he lived for twenty-five years as a horse breeder.
Initial speculation centered on Morse as a prime suspect in the Borden murders. After all, he had arrived in town the day before the murder carrying few possessions. It seemed odd to many that he would come so far to visit a family for an undetermined amount of time with so little. And there was never any real reason for why he chose to visit.
Morse, however, was identified in town at the time of the murders, ending speculation that he and Lizzie were having an incestuous affair--and that he was the mastermind of the murder plot.
HOSEA M. KNOWLTON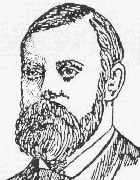 Hosea Knowlton, forty-six at the time, was the lead prosecutor in the Borden trial. He was a well respected attorney in Massachusetts and had a lengthy history of public service,including fourteen years as the county district attorney. Knowlton also had a separate career as a statesman, serving as a state representative and senator. In addition to his job as a district attorney, Knowlton was a partner in a large New Bedford law firm. He delivered the closing argument and was responsible for conducting most of the substantive trial matters.
WILLIAM H. MOODY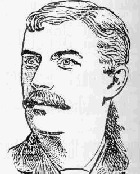 William Moody was the second chair on the Borden trial. He was forty when the Borden trial took place, making him the youngest attorney in the entire trial. He was a relatively inexperienced attorney in the role of prosecutor compared to his co-counsel. He was a district attorney for Essex County for two years, but had managed to develop a reputation as a diligent attorney and spent a good deal of time carefully preparing pleadings in the Borden case. He delivered the prosecution's opening statement and conducted limited questioning of a few witnesses.
GEORGE ROBINSON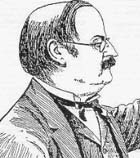 George Robinson was the lead defense counsel in the case. Robinson was the most notable figure in the entire trial. He was fifty-nine years of age when he tried the Lizzie Borden case. He was known throughout Massachusetts as a political leader. He was the Governor of Massachuset from 1884-1886. He was elected as a representative in the United States Congress for four terms. His involvement in the case came as a result of contact with Andrew Jennings and pressure from the interest groups. Robinson handled virtually all defense trial matters in the Borden case.
ANDREW JENNINGS

Andrew Jennings was the Borden family attorney who had been the first defense attorney involved in the Borden case. He persuaded George Robinson to assume the leadership position for the defense of Lizzie. He was a passive player during the trial, with the exception of his delivery of an opening statement. His prior legal work for the Bordens had been predominantly transactional work, and his experience in criminal matters was modest.