by Arthur Miller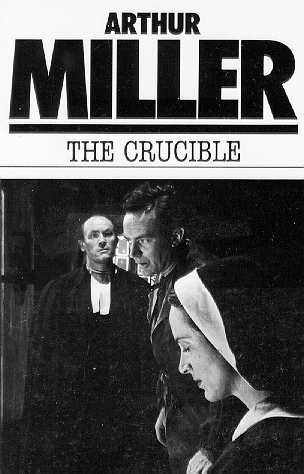 E.G Marshall, Arthur Kennedy, and Beatrice Straight in the 1953 Broadway production.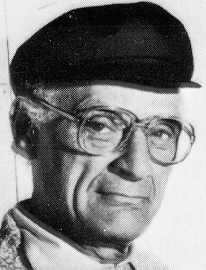 In 1953, Arthur Miller's play "The Crucible" ran on Broadway at the Martin Beck. Despite being a box office success and acclaimed by critics and audiences alike, it was considered second-best to his prior "Death of a Salesman." As Brook Atkinson for the New York Times reported the day after the opening, "[T]he theme does not develop with the simple eloquence of 'Death of a Salesman.'"
Although the events of the play are based on the events that took place in Salem, Massachusetts in 1692, Miller was liberal in his fictionalization of those events. For example, many of the accusations of witchcraft in the play are driven by the affair between farmer, husband, and father John Proctor (Arthur Kennedy), and the Minister's teenage niece Abigail Williams (Madeleine Sherwood); however, in real life Williams was probably about eleven at the time of the accusations and Proctor was over sixty, which makes it most unlikely that there was ever any such relationship. Miller himself said, "The play is not reportage of any kind .... [n]obody can start to write a tragedy and hope to make it reportage .... what I was doing was writing a fictional story about an important theme."
The "important theme" that Miller was writing about was clear to many observers in 1953 at the play's opening. It was written in response to Senator McCarthy and the House Un-American Activities Committee's crusade against supposed communist sympathizers. Despite the obvious political criticisms contained within the play, most critics felt that "The Crucible" was "a self contained play about a terrible period in American history."
The Crucible (The Movie)
Over twenty years after the opening of the play, the eighty-one-year-old Miller wrote the screenplay for the production of a movie version of "The Crucible." As was the play, the movie is a fictionalized version of the events of Salem in 1692. Additionally, the movie was been changed from the play in some minor respects. For example, the movie opens with a scene of the town girls sneaking into the woods and participating is a ritualistic dance with the slave woman Tituba--until they are all caught by the minister. In the play this scene was referred to, but not performed. Another change is that the Slave woman Tituba is portrayed as black, when she was actually an Indian.
Although hailed by some, the movie was not as well received as was the play. One critic stated, "This filmic redux of Miller's theatrical parable is somewhat out of place on the modern landscape. What was no doubt a powerful and emotive effort in the 1950s, when it was written as a scathing critique of Senator McCarthy's crusade against supposed communist sympathizers, falls flat in the '90s." Even the star-studded cast was not enough to save the film for some. "Winona Ryder and Daniel Day-Lewis star in this two-hour yelling match between good and evil. Not recommended for those with a low tolerance for '50s-style misogyny and moralistic posturing." Not all were so harsh. Another reviewer stated, "With a head on its shoulders and the rawest emotions in its craw, Miller's stage hit "The Crucible" has become a cinematic grabber for grown-ups (**** out of four)."
For a complete list of the cast and clips from the 1996 film, see: Movieweb